Datman - Account Verification Process

Why is Client Account Verification Mandatory?


Datman Account Verification Is Mandatory because we are a financial organization. As per Anti-Money laundering regulations, we are required to run KYB and KYC checks on all our clients. This means we need proof of the contract holder's IDs and his business and banking details.

Clients are required to upload their KYB and KYC documents in order to withdraw the funds. The documents are then verified by Datman's QC team. If the documents are not correct an automated email is sent to the clients with the exact requirements for their respective businesses.

Required Documents.


Please note that the required documents need to be uploaded to the online Datman account.


To upload the documents, Clients have to log in to their Datman account at

portal.datmancrm.com
. If they see the below alert on their accounts then they have to upload the required documents to their profiles.

NOTE :
(Screenshots from Mobile/Computer are not accepted, Only complete Picture of the Document is accepted)


1. Valid Passport/Driving License

2. Business Bank Document - Bank Statement/void cheque or welcome Letter from the Bank (Bank account has to be under the Ltd company's name) no more than 3 months old.


1. Valid Passport/Driving License

2. Business Bank Document - Bank Statement/void cheque or welcome Letter from the Bank no more than 3 months old

3. Utility Bill at the trading address no more the 3 months old (Energy, Gas, Water, Landline Bill or Council Tax)

Step 1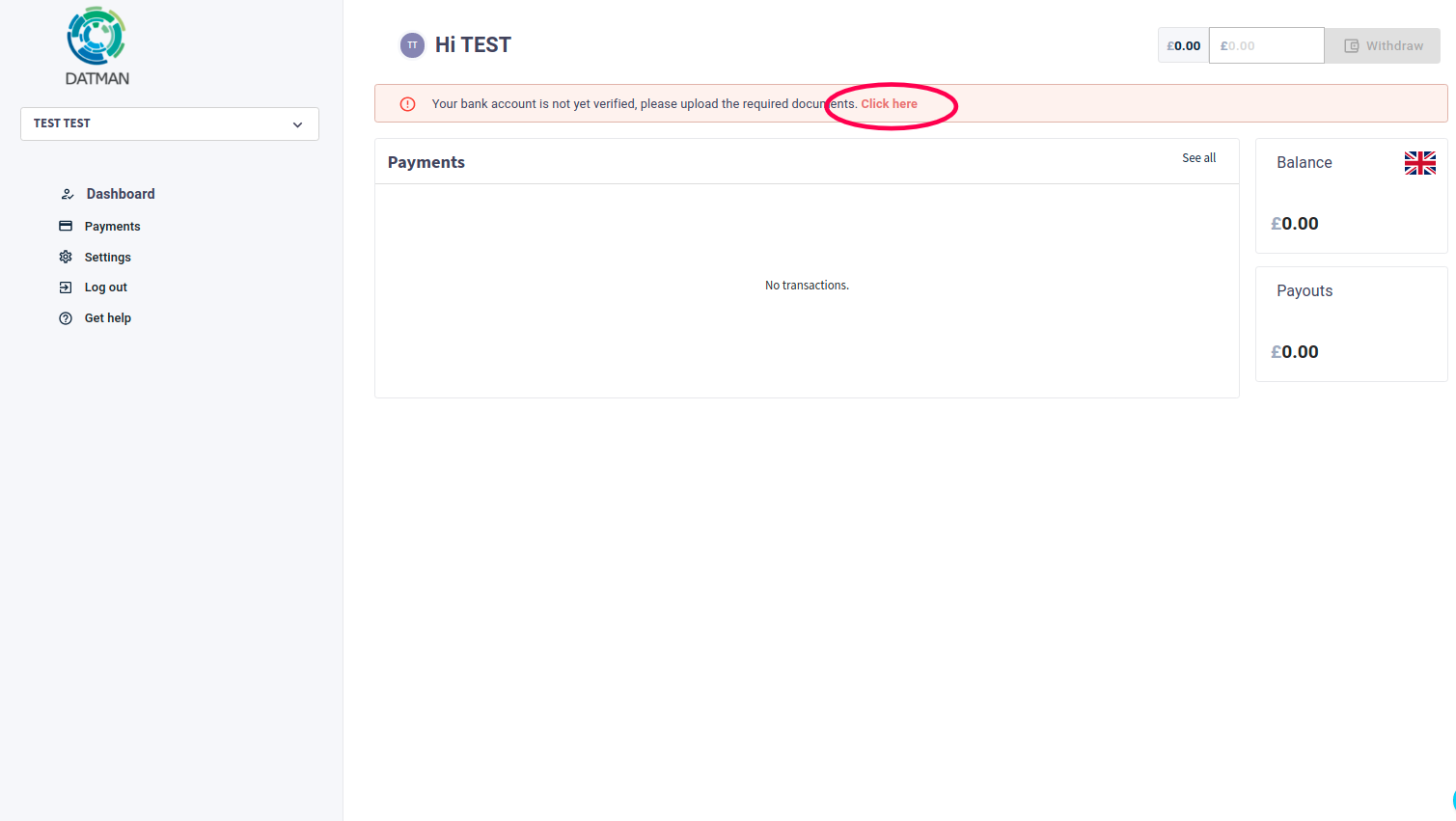 Related Articles

Request Datman Statement

Datman Statement If you need Datman statement you can contact us at info@datman.je NOTE : If you need Datman Statement you can submit your request using the following Link and you will receive the statement in 24 to 48 Business hours. Click here to ...

Datman - Change Of Ownership

Transfer of Business Ownership and Creating a New Datman Account If you have sold your business and a new owner has taken over, it is necessary for them to create a new Datman Account. Follow the steps below to ensure a smooth transition and avoid ...

Datman - How do I complete the registration for my Datman account?

Creating a new Datman account is easy, you can just follow the procedure mentioned below. You would have received a registration link from FoodHub to your registered contact number. Click on the Link, once the link opens you will be on the below ...

Datman - Unable to Login to your Datman account/ Forgot your Password?

Follow the below easy steps to Reset your password from Datman Portal. *Open the Datman Portal - www.datmancrm.com *Select Reset Password *Enter your Registered Email and reset the password. Click Here to Reset the Password Step 1: Enter Email ...

Datman - How to Withdraw Funds from my Datman account?

To withdraw funds from your Datman Account, Please login to your Datman Account www.datmancrm.com Once you are Logged in you will see this page Enter the amount without any special characters and click on the Withdraw button on the right side. ...